Veneers are wafer-thin pieces of porcelain that mimic the shape of a natural tooth. They are custom-fabricated by a dentist at a dental laboratory and bonded to the front of a tooth. It helps to get rid of the surface imperfections and gives the patient a more pleasing and attractive smile. Veneers are known to be alternatives to crowns as they help reshape the teeth and treat several types of dental conditions. They are durable and last for several years without hassle. However, they will eventually have to be replaced so that you can keep a beautiful smile.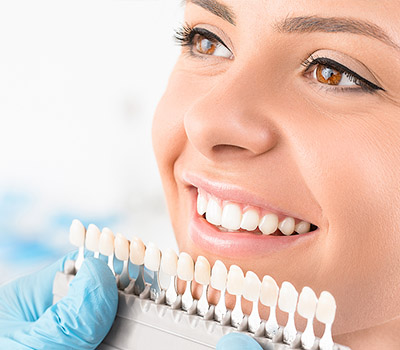 When can veneers be used?
Patients with an uneven smile can get a more uniform and pleasing smile with the help of veneers.
Misaligned teeth can be modified to look properly aligned using veneers.
Teeth that are misshapen or chipped due to external forces can be brought back to their ideal shape by bonding veneers to their front surfaces.
When the teeth are severely stained or discolored, it can be made to look whiter by bonding veneers.
Teeth that are naturally too small or too big can be restored to their apt size with veneers.
When there are excessive spaces between adjoining teeth, they can make your smile look displeasing. Veneers can be used to eliminate such gaps.
What is the procedure involved?
Getting a veneer placed on your tooth will involve two visits to the dentist's practice. During the first visit, the dentist will clean the teeth and minimally prepare them for taking the mold. The tooth receiving the veneer will be buffed gently and may require the removal of a thin layer of enamel. Next, a highly precise digital mold will be taken and sent to a dental laboratory for fabrication.
During the next visit, the dentist will apply etching liquid on the tooth to roughen its surface. Bonding cement firmly fixes the veneer to the tooth, after which the dentist uses a special light beam to harden it. He will polish it to make it look as lifelike as possible. 
To have a consultation with Dr. Ziadat and his associates, please schedule an online appointment or call us at (480) 345-7413, and we will be happy to help.