So Why Should I Get a Dental Bridge?
Posted by DR. FERAS Z. ZIADAT, D.M.D. on Aug 9 2020, 11:27 PM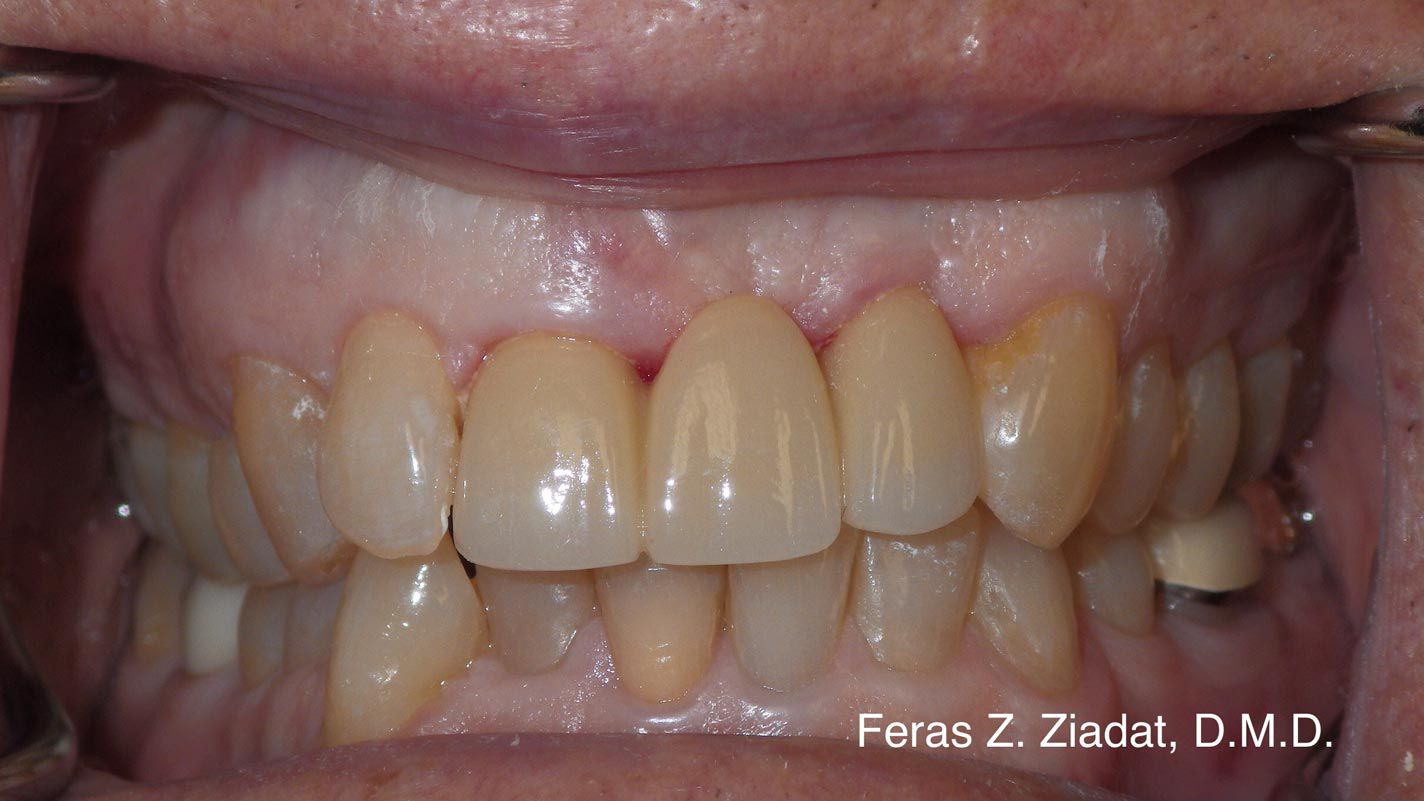 Let's start off by explaining what a dental bridge is. A dental bridge is a dental prosthetic that is used to close off a gap in between two teeth or more. The reason for the gap is a missing tooth or more. Sometimes implants can be a great option for those missing teeth, but a bridge is still a great option if someone has underlying systemic or dental problems (meaning they don't qualify for implant therapy). 
Today we will discuss Erik's case. Erik broke his front tooth when he was in sixth-grade, playing football many years ago. He did not have that space replaced until he went to college. Until he got his original, older dental bridge (pictured below), Erik never smiled because he was self-conscious. This bridge has been with him for over 25 years and helped him restore his smile. Unfortunately, the color of it was not matching (too white), and the gums around the teeth started to recede and resulted in cavities around the teeth. 
I had to break the bad news to Erik, but the good news I was able to give him is that we can redesign his smile in the front and match the color to make it look very natural. Erik happily agreed! We looked at a few color options, and we all agreed that this shade would look best (pictured below). During the first visit, the old bridge was removed, and the cavities were cleaned out from underneath both the teeth; we were able to save the teeth and avoid root canals. He was extremely happy that we were able to do so. A final impression (mold) of the teeth was taken to create the customized final bridge for him. In the meantime, we placed a temporary bridge so he can leave the office with something that looks good.
After about 12 days, Erik came back for his second visit. The temporary was removed, and the final bridge was put in place and tried on. We evaluated the color, shape, bite, and seal of the bridge. He was extremely happy with the look and feel of the result. We then took final x-rays to verify the seal of the bridge on the teeth. Then we placed the final bridge with permanent dental glue so it could hold its place.
At Desert Breeze Dentistry, we treat everyone with special care and cater to your dental needs. Every single patient that walks in is special. We get real results on real people. Call us at 480 345 7413 to schedule for your dental needs.